Archways College 2200 Hour Massage Diploma
Advanced Therapeutic Massage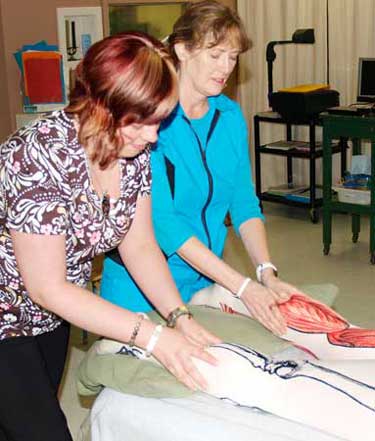 With Archways' 2200 hour Advanced Therapeutic Massage diploma program, students get three-dimensional teaching. Students are encouraged to see, hear and do for active, hands-on learning throughout the program. Lessons are taught in an easy-to-absorb manner and the fun atmosphere and discussion between students and instructors fosters better learning.
Upon completion of this program, students will have a functional understanding of anatomy, as well as the knowledge and ability to give and receive therapeutic massages.
Archways Healing College's 2200 hour Advanced Therapeutic Massage therapy training is an intensive program consisting of classes, practicum and assignments in just 12 months.
Finish two years of massage training in just one intensive year! 
Start making money sooner doing what you love!
Massage Therapy.. A Rewarding Career!
---
Advanced Therapeutic Massage in Alberta
2200 Hour Massage Therapy Diploma Program: Year 1
The massage program offers the student a wide variety of subjects which meets all requirements as the field of massage therapy moves toward regulation in Alberta.
The focus of the first year massage training is developing technique, learning various styles of massage (pregnancy, supine, etc.), trigger point work, passive/active release, muscle function, learning to stretch and strengthen muscle and remedial exercises:
Year one, 1000 hours of massage training:
Theory, lab, anatomic planes, positions & directions, anatomy, kinesiology, muscles, joints, bones, palpation, conditions & pathology (pelvic tilts, high blood pressure, M.S., rheumatoid arthritis, acne, diabetes, swelling etc), bacteriology, hygiene, contraindications, assessment, remedial exercise, lines of movement, constructive rest, nutrition, biofeedback, body systems (nerves, endocrine, circulatory etc), ergonomics, scope of practice, technique for high blood pressure, Swedish massage techniques, trigger points, introduction to therapeutic techniques, record keeping, practical, practicum, specialty massage (maternity massage, chair massage, face massage, foot massage reflexology,  two point massage, two therapist massage,  supine massage), therapist self care massage, draping client, equipment and safety, assignments, exams
AND
Related skills - ethics, communication, client comfort, customer relations, energy transference, energy counter transference and business skills. Upon successful completion of this course, the student will have strong insight into the skills required to manage a Massage Therapy practice.
Students need 1,000 hours (or equivalent) massage therapy training with Kinesiology to proceed to Year Two where they will earn their Massage Therapy Diploma.
Massage graduates with less than 1000 hours, who take the Techniques and Trigger Points (TT) classes and the Anatomy in Action (AA) classes (see continuing education section), may bring their training hours up to 1,000, thereby meeting the requirements for Archways Healing College's Year One massage training and entrance into year two training for Diploma.
 
Do you have massage training but not enough training credits to obtain a 2200 hour Advanced Therapeutic Massage diploma?
We may be able to help! Contact us!
---
Archways Healing College Advanced Therapeutic Massage
2200 Hour Massage Therapy Diploma Program: Year 2
Yr-2 massage curriculum trains the student in Advanced Therapeutics. By the end of Yr-2, the student will have an additional 1,200 hours of training to earn their Diploma of Massage Therapy.
Yr-2 is offered in six in-class modules, plus homework and assignments. The focus of Yr-2 is on conditions, assessments, remedial exercises and advanced techniques.
Year two/ term two:
Second term at Archways Healing College massage therapy course starts off with a quick review first year. We continue on to cover topics such as kinesiology, orthopedic assessments, mechanism of injury, treatment planning, remedial exercises and we modified techniques and assessments to equip you with knowledge on safe and effective massage applications.  
Entry into Year 2 massage training has the following prerequisites:
1000 hour massage training certificate or equivalent
Supportive documents such as transcripts
Interview with a College administrator
To upgrade to a 1000 hours of massage training, fill out our registration form (found on our home page) and tell us you want to upgrade to 1000 massage hours. We will send you information on your next step.
Need to refresh Kinesiology, passive and active release etc? Take our amazing Anatomy in Action course (AA).
Register today for the 2,200 hour Diploma of Advanced Therapeutic Massage program